I have decided to try and do the whole National Blog Posting Month for November of this year. This means I will write a post each day.
This is probably a crazy thing to do. I don't know. Right now I have a bazillion work projects. We just let go of a few people and I acquired some temporary projects. The research project I have been working on is finally gearing up. I have big class assignments due. And I am going to host Thanksgiving for my whole family at the end of the month.
Maybe I need to post here to keep sane?
I am going to start pinning recipes to pinterest for the dinner. I am very excited about having people over. I am afraid I don't have enough places for people to sit. I might get another table.
Man this whole post is like a big run on sentence.
That is sort of how I feel right now too.
I have Halloween pictures to post, but I will save them for a quiet time during the weekend. For now this picture of Zoe and Charlie with my nieces will have to do….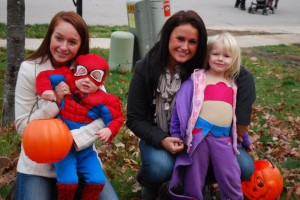 Once I figure out how to actually put that widget on my sidebar, it should appear. Sheesh. I am supposed to be an Interaction Designer. Ugh.