So, I don't think I have mentioned on here how much I am obsessed with vintage Pyrex. It was a love that started slowly, but at some point took over an area of my thoughtspace.
I am part of a group of bloggers who blog about their Pyrex Finds. It is fun to share with a community of people with a common interest. (Duh!) I might start cross blogging from there to here to have more of a record.
I usually don't go overboard in purchasing things, and I have slowed in my Pyrex obsession, except to things that I find in Goodwill or for a great deal at a thrift store.
This past summer I took an illustration class. One of the assignments was to draw 100 things. I decided to draw 100 pieces of vintage Pyrex.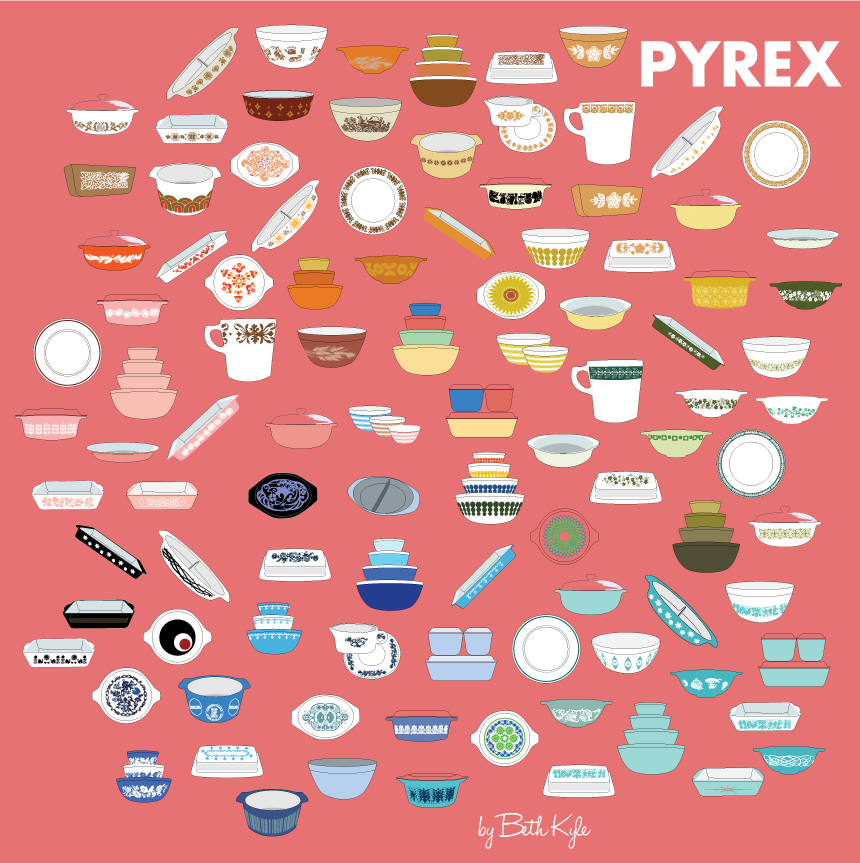 I spent many many hours drawing each one in various ways. I used Illustrator to finish the pieces, but depending on the pattern I used hand drawing, tracing programs in the iPad, and Photoshop for outline finding. It was a huge task, and at the end my hubby was about to throw every piece of Pyrex I have out the window!
I plan on selling the poster at a local vintage shop. And, I think I will also use cafepress to sell different images and from it.
Recently I started playing with SpoonFlower, a create your own fabric tool. I have been working on taking my Pyrex illustrations and turning them into fabrics.
Here is a taste of one of them.
I can't sell a pattern unless I have ordered it and checked it out already. I ordered swatches of the nine fabrics I have so far, and hope they turn out well. If so, I can open them up to let other people purchase the designs.
Right now I have fabric patterns for Butterfly Gold, Orange Daisy, Pink Daisy, Spring Blossom, Eyes, Horizon Blue (seen above), Friendship, Crazy Quilt and Rooster.
I have many more illustrations available, these were just the first few that I did. You can see them in the widget below.