All of my contributions to Thanksgiving Dinner are complete. All that is left is to pack up the car and head down to my sister's house this afternoon.
I made four pies: Apple, Pumpkin and two Pecan.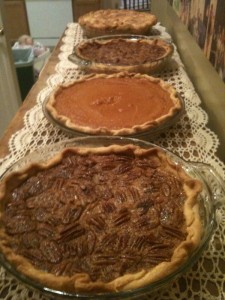 And last night I whipped up a batch of Cranberry Orange Relish (so easy) and Brussel Sprouts with Pancetta and Balsamic Vinegar (hoping it's 'yummo').
I am sure it will be a crazy day. There will be 20+ people there, mostly under 18, which will only be my parents and their children and their children's children. And even though there are so many, we will still be missing at least twelve family members. It is difficult to explain what it is like to have eight brothers and sisters during the holiday season.

I have had an underlying worry over the past few weeks. I feel huge. My belly is shaped differently than with the Zerker, but I am obviously pregnant and I really do think I look way bigger than last time at this gestational period. Still, I do not feel anything moving. I know I am only 16 weeks, but I feel so big, it seems like I should feel movement. I thought I felt butterfly wing movements at around 12-13 weeks. I do not feel those anymore, but Holy Moses the kid is growing.
All of this worry caused me to look back at my posts with the Zerker. I feel better now, knowing I had the same worries then and nothing was wrong….
I have a doctor's appt on Monday. I hope my fears will find some peace for a few more weeks then.
Our big ultrasound is scheduled for the week of Christmas.
Now, I turn to giving thanks….
I am thankful for:
My husband.
My daughter.
The Blobbles.
Our furry kidlets – Gus, Starbuck, Grace and Mittens.
My parents and brothers and sisters.
My job.
Our house and cars and stability.
The grace of Providence.
And big big smiles…..