After fighting it for a few nights, the Zerker has slept through 5am the past two nights. Yay!
She just doesn't seem to be a sleeper. At her age she should be taking two naps and sleeping a full nights sleep.
I am lucky to get one nap out of her these past few weeks and the daycare hardly seems to even try.
She seems to need me to lay with her for a bit to calm her down, and I am sure they don't do that at daycare. But, last night Nadie just had her play hard until she was tired and he said she went right to sleep. I was at choir practice.
I was worried that her ears were bothering her after four days of being up for hours at a time in the wee small hours of the morning. She didn't have any other symptoms – no fever – so I didn't want to do the over zealous mommy bit at the doctor one more time (I think they are getting used to me being there.) If they were, they seem to have cleared up.
Yesterday she was in a fabulous mood….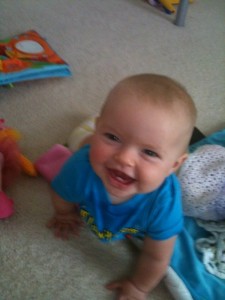 Oh – but when I got home from choir practice, Nadie had a story to tell! I guess when he was jogging on the treadmill and the Zerker was hanging in the pack n play she had a major blowout. Like – all over the pack n play and everything that was around her! I tried to sound sincere …Oh dear! That sucks! But it turned into a fit of giggles….hehehehehe! Better you than me!
I'm so bad.